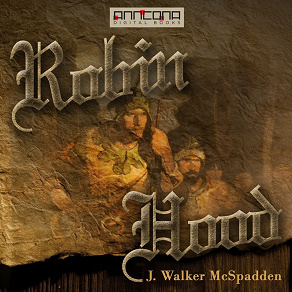 Robin Hood
The Adventures of Robin Hood is an 1891 novel by the American writer J. Walker McSpadden. 
Consisting of a series of episodes in the story of the English outlaw Robin Hood and his band, the novel compiles traditional material into a coherent narrative in a colorful, invented "old English" idiom that preserves some flavor of the ballads, and adapts it for children.
The plot follows Robin Hood as he becomes an outlaw after a conflict with foresters and through his many adventures and run-ins with the law. Each chapter tells a different tale of Robin as he recruits Merry Men, resists the authorities, and aids his fellow man. 
The popular stories of Little John defeating Robin in a fight with staffs, of Robin's besting at the hands of Friar Tuck, and of his collusion with Allan-a-Dale all appear. 
In the end, Robin and his men are pardoned by King Richard the Lionheart and his band are incorporated into the king's retinue, much to the dismay of the Sheriff of Nottingham.
The novel is notable for taking the subject of Robin Hood, which had been increasingly popular through the 19th century, in a new direction that influenced later writers, artists, and filmmakers through the next century. 
Total Running Tim e (TRT): 5 hours, 54 min. Reading by Barry Eads. 
Listen to sample
---