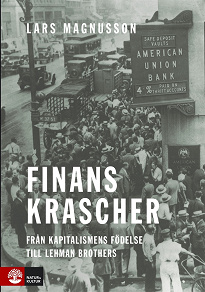 Isbn:
978-91-2714-568-9
Publisher:
Natur & Kultur
Category:
Economics & Business
Accessible since:
February 2018
---
Finanskrascher : från kapitalismens födelse till Lehman Brothers
Ända sedan kapitalismens födelse i medeltidens Europa har finansiella bubblor och krascher varit ett alltför bekant fenomen. Men varför uppstår de - och hur?
Från påvars och kungars konkurser, via Nederländernas tulpaner, USA:s järnvägsbyggen, Kreugers tändstickor och fram till Lehman Brothers förklaras här det intrikata spel mellan lokala och globala aktörer, hjältar och skurkar, stater och företag, kortsiktiga och långsiktiga analyser som fött fram de dramatiska krängningarna i finanshistorien. Och om historien kan lära något, så är det att framtiden ser osäkrare ut än någonsin.

Lars Magnusson är professor i ekonomisk historia vid Uppsala universitet, ledamot av Kungliga Vetenskapsakademien och ordförande i Scandinavian Society of Economic and Social History. Han har skrivit en rad ekonomihistoriska böcker på engelska och svenska, bland annat standardverket Sveriges ekonomiska historia.
Read sample
(Download)
---