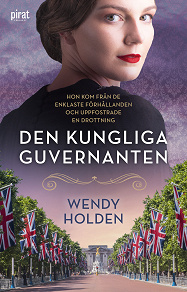 Den kungliga guvernanten
"…spännande roman om kärlek och dramatik, lojalitet och försakelser och kungligheter förstås."
BTJ helhetsbetyg: 4.



Nytt ljus på världens mest berömda familj    
Hon kom från de enklaste förhållanden och uppfostrade en drottning.
Dramat kring abdikationen, den glamourösa kröningen, traumat som andra världskriget innebar Marion Crawford stod vid kungafamiljens sida genom alltsammans.  
1933 kom en ung lärarinna från Skottland till London för att vara guvernant till de små prinsessorna Elizabeth och Margaret. Crawfie, som hon kom att kallas, var socialist och hade planerat att viga sitt liv åt att undervisa barn i Edinburghs slumområden. När hon istället blev övertalad att ta sig an prinsessorna, var hon fast besluten att ge dem en så normal barndom som möjligt. Hon ville att de skulle veta hur deras blivande undersåtar levde sina liv, så hon tog med flickorna på bussar, till offentliga simbassänger och till julhandeln på Woolworths.  
I sjutton år tjänade Crawfie den kungliga familjen. Men hennes hängivenhet och lojalitet betydde ingenting när ett upplevt svek fick allt att rasa.
Denna storslagna roman väcker Marion Crawfords sedan länge begravda historia till liv och sätter ett nytt ljus på världens mest berömda familj. Perfekt för alla som älskar The Crown på Netflix.  
Wendy Holden är författare till sexton romaner, och har gjort stor succé med The Royal Governess. Hon bor med sin familj i ett hus som ser ut som ett litet slott, med enorm trädgård, i norra England.
Read sample
(Download)
---